Dr. Carlos Smith Answers COVID Medical Questions on Facebook Live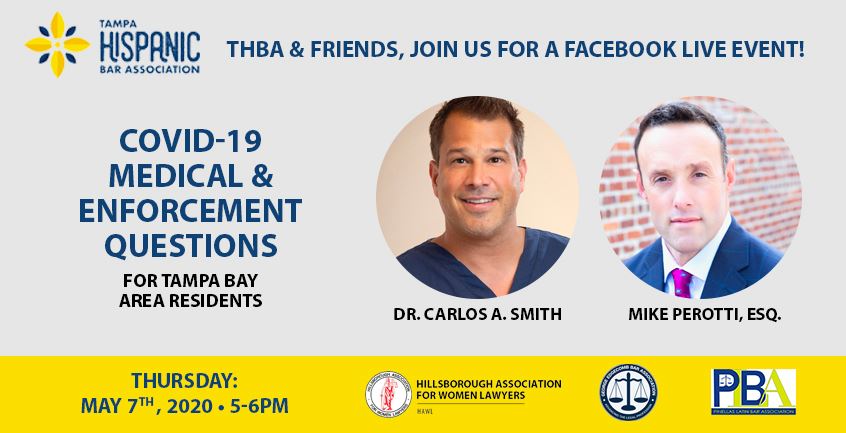 Hosted by Tampa Hispanic Bar Association and George Edgecomb Bar Association, Dr. Carlos Smith was featured in a Facebook Live session where Covid-19 Medical & Enforcement Questions were asked.
The THBA, along with the Hillsborough Association for Women Lawyers, the George Edgecomb Bar Association, and the Pinellas Latin Bar Association were excited to bring this live event.
Speakers were:
Dr. Carlos A. Smith. A board-certified physician in emergency medicine who works at St. Joseph's Hospital in Tampa, Florida. To learn about Dr. Smith, please visit: Physician Profile: https://tampamagazines.com/physician-profile-dr-carlos-smith/
Mike Perotti, Esq. Mr. Perotti is an attorney with Hillsborough County Sheriff's Office. To learn more about Mike Perotti please visit: https://www.linkedin.com/in/mikeperotti/
Dr. Smith and Mr. Perotti were both on live Facebook to take questions regarding the COVID-19 medical issues for the Tampa Bay community and the issues surrounding the different regulations coming out of Tallahassee, Hillsborough County and the City of Tampa.